First impressions are all about presentation.
Your products and services can be the best in the world, but if they are not presented professionally they could be overlooked. That's where we can help. We can produce folders in a wide range of shapes and sizes to meet your specifications and budget. When you print with Minuteman Press, we can guarantee that you'll walk into your next business meeting with the best quality presentation folders so you can nail your pitch.
We always offer our customers free quotes and consultations, so please call, email, or use the form below to reach out and we will get back to you as soon as possible!
To get a quote or upload a file, please fill out the form.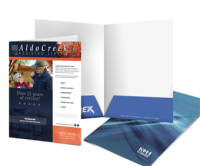 Other Recommended Products